Laboratory of Cardiovascular Lipidology and Atherosclerosis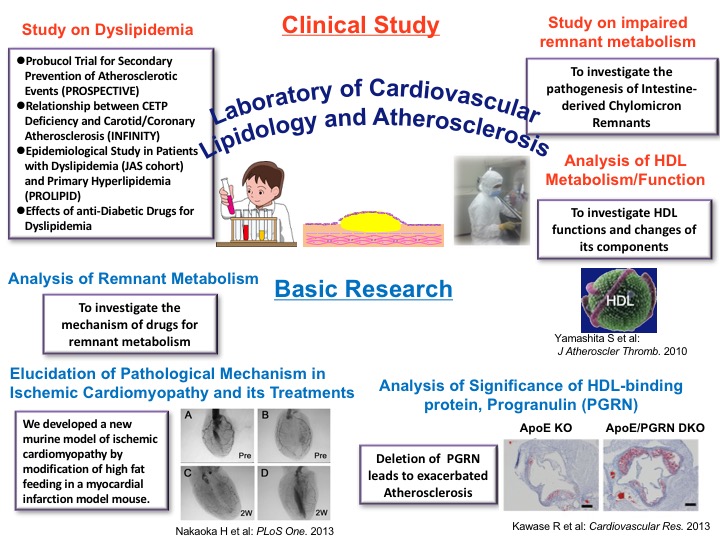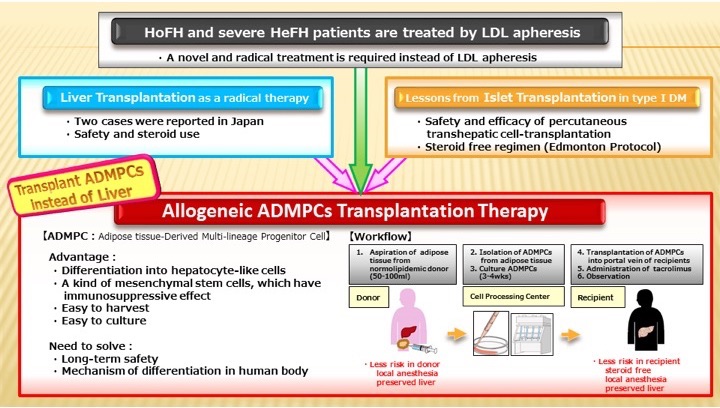 Research Interests
Our laboratory has been conducting researches focusing on the molecular mechanisms and novel strategies for prevention and treatment of atherosclerotic cardiovascular diseases. Especially, we are specializing dyslipidemia, metabolic syndrome and atherosclerosis. Please contact us if you are interested in our laboratory.
Current and Future Research Interests
HDL Metabolism
We reported, for the first time, patients with a marked hyperalphalipoproteinemia (HALP) and corneal opacity, suggesting that HALP with extremely high HDL-C is a disorder of reverse cholesterol transport. We also identified patients with plasma cholesteryl ester transfer protein (CETP) deficiency and demonstrated that remarkable elevation in plasma HDL-C are associated with an enhanced atherosclerosis. Furthemore, we have demonstrated that probucol is effective for the prevention of cardiovascular events despite a marked decrease in plasma HDL-C levels. We have been advocating that HDL functions rather than serum HDL-C levels are important for prevention of atherosclerotic cardiovascular events. We have been investigating HDL functions and changes of its components in various diseases by using a variety of modalities.
Molecular Analysis and Treatment of Atherogenic Postprandial Hypertriglyceridemia
We have been investigating the pathogenic mechanisms and therapeutic interventions of postprandial hyperlipidemia that is highly atherogenic. We have developed both ELISA and CLEIA for measuring the serum levels of apolipoprotein (apo) B-48 concentration, which is the only quantitative marker of chylomicrons and their remnants. We found that fasting apoB-48 concentration is high in patients with fasting/postprandial hypertriglyceridemia, the metabolic syndrome, and chronic kidney disease, and also significantly correlated with the prevalence of intima-media thickening of carotid arteries and coronary artery stenosis. We have investigated clinical implications of the exogenous atherogenic lipoproteins, chylomicron remnants and isolated chylomicron remnants selectively for elucidating their atherogenic characteristics and biological activity.
Analysis of Physiological Significance of Progranulin (PGRN)
PGRN has a variety of functions including cell proliferation, growth, wound healing and anti-inflammatory properties. Mutations in PGRN genes are known to be associated with frontotemporal dementia. We previously reported that PGRN secreted from human monocyte-derived macrophages is bound to apolipoprotein (apo) A-I, which is the main component of HDL particles. Next, we generated PGRN-/-Apo E-/- double knockout (DKO) mice to investigate the effects of PGRN on the development of atherosclerosis. DKO mice exhibited exacerbated atherosclerosis compared with PGRN+/+ Apo E-/- mice. We are conducting experiments to analyze a couple of interesting phenotypes such as enhanced aging, inflammation and cardiac functions.
Hypo E/SR-BI KO Mice: Pathophysiology and Pharmacological Applications
Hypo E/SR-BI KO mice easily develop myocardial infarction and ischemic heart failure by high fat Paigen diet loading. We have been examining coronary arteries and myocardium in this model to elucidate the pathogenic mechanism of ischemic cardiomyopathy, and evaluate the effects of a variety of agents on this model to develop new treatments for ischemic cardiomyopathy.
Phase I Clinical Trial Evaluating the Safety and Effectiveness of Transplantation Therapy Using Allogenic Adipose Tissue-derived Multi-lineage Progenitor Cells (ADMPCs) for Patients with Severe Familial Hypercholesterolemia
Familial hypercholesterolemia (FH) is an inherited disorder, mainly caused by defects in low-density lipoprotein (LDL) receptor gene. The patients are characterized by high serum LDL-C levels and premature coronary artery disease. Although most of heterozygous FH patients are usually treated with statin, ezetimibe and bile acid sequestrants, homozygous FH patients are resistant to drug therapy. Therefore, in Japan, many of homozygous FH patients are treated by LDL-apheresis. LDL-apheresis is a great procedure to remove LDL from the blood and has contributed a lot to improve the prognosis of homozygous FH patients. However, the effect of removing LDL is temporary and still not enough. As a definitive therapy, liver transplantation is one of the options to recover LDL receptor, but donors are always limited in Japan.
With the increase in the evidence on the safety of mesenchymal stem cells and percutaneous transhepatic portal approach in islet transplantation, we have developed a novel cell transplantation therapy with allogeneic adipose tissue-derived multilineage progenitor cells (ADMPCs) as an alternative treatment instead of liver transplantation.
We generated a protocol for the first–in-human clinical trial and it has been approved by the institutional review board and Ministry of Health, Labour and Welfare, Japan. We have already enrolled a patient and started this trial.
Name of Lead Principal Investigator
Prof. Shizuya Yamashita
Department of Cardiovascular Medicine
Osaka University Graduate School of Medicine
Clinical Study Design
Basic design:

Phase I (First-in-Human); Single arm, non-randomized, open-label

Patients:

Severe Familiar hypercholesterolemia undergoing
LDL-apheresis treatment

Cells:

Allogeneic adipose tissue-derived multi-lineage progenitor cells (ADMPCs)

Primary Endpoint:

Safety(adverse event)

Secondary Endpoint:

Efficacy in LDL-C levels, frequency of LDL-apheresis
Clinical Trial Registry ID:   UMIN:UMIN000020591
Registry

Number of cases: 4
Entry: until Aug 31, 2018

Funding Source

The Japan Agency for Medical Research and Development (AMED)

Contact Address

Masahiro Koseki, MD, PhD
Department of Cardiovascular Medicine
Osaka University Graduate School of Medicine
2-2 Yamadaoka, Suita, Osaka 565-0871, Japan
TEL : +81-6-6879-3633